She will donate money to a local charity
of the winner's choice.
Anyway, I think I remember that right.
This is my submission:
Now way down in old hot Savannah
Anna gripped an aged banana .. :)
Quite limp and soft to her touch
She jerked it with mighty clutch
It stiffened and Bill yelled Hosanna!







If the weather outside is frightful
The fire will be more delightful
Cause the power went out long ago
Let it snow, let it snow, let it snow ..
It doesn't show signs of stopping
So, we keep our barhop hopping
With margaritas he keeps the flow
Let it snow, let it snow, let it snow ...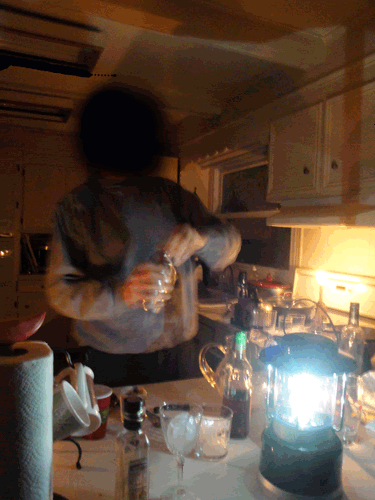 Mr Foan in action ... sans head .... Gotta protect the innocent, right?
Some words to the warm and cozy
who eventually do need to go see
the candle that enables you to seetopee
don't eat the yellow snow, the yellow snow, the yellow snow* ....
*err, hmmm ...
with apologies to whoever wrote this song in the 40s.
i believe it was written then ..
So, time aplenty to make a comment.
I will be there off and on ..
and I believe I'll wear this:
so,
HappY New Year
to ALLLL ..
and to all
a prosperous and healthy and
happy 2011..
a new year's garland
for chickory's charity: