...
sj
asked ...
heidi
suggested i slap him for that question ..
and while i normally might be very tempted to extend my stick 7000 miles
thataway
and knock him upside the head, i thought
i'd
reign in my normal tendency to wreck havoc upon his poor noggin' ..
and instead look at definitions for the word drunk .. although, of course, we all know that it is really just the past participle of drink.
when i really want to know a definition i go to the urban dictionary first ..
and this is what my extensive research found :
- a sublime way of existing in a world full of idiots .. ......
(sounds tempting, actually)
- chemically inconvenienced ....
(

pfft

... sounds like a lame excuse to me .. yo, officer,

i'm

not drunk ..hick.. just a wee bit chemically inconvenienced.. )
- when you have to hold on to grass to keep from falling off the earth ..
(

hmmm

.. been there, done that .. unfortunately .. a long, long, long time ago .. cheap scotch should be outlawed..)
-bane of the convenience store third shift clerk ..
(i have too much class for that one .. i don't shop for cheap beer and wine at 3 in the morning ...)
so, and now, while i do imbibe in liquids that might cause me to be ..
umm
.. chemically imbalanced at times ..and it doesn't take much to put me in a sublime way .. 2 glasses of wine or beer .. tops .. the 3rd glass
i'm
holding on to the grass.... by the 4
th
glass .. it's not pretty .. and i haven't gone there in a very, very, very long time. haven't had to hold on to the grass in ages either..
i don't paint drunk ..
... because when i paint the rooms of my house i prefer to do that while rather sober ..
and that's primarily the type of painting i do .. when i have to .. paint the walls of the houses i live in ..

and i know that's probably not what
sj
had in mind when he said paint.
i'm
not a painter the way
boneman
and k9 are. i don't use paints the way dd does. i might use paint in my artwork, but i use it rarely ..
so, and that's the end of my post .. or so i thought ..

but then i couldn't leave well enough alone and had to look up the word drunk in one of the more mainstream online dictionaries ..

and amongst a few obvious meanings such as 'inebriation' i also came across this definition:

drunk (adjective) - overwhelmed by strong influence or emotion as in:
she was drunk with excitement at the prospect of knocking

sj's

lights out ..
and then i remembered .. primarily because i had also been thinking of sj's 20 year old question ..

yes, i did use to paint .. (thank you,
sj
, for bringing back that memory)
with water colors .. for the pure sheer joy of it .. a long, long, long time ago as a child and as a young woman in my early 20s...

i loved my pelican water color set. i had a metal container (actually, i still have it) with those dry round cakes of water color in them. i had the set with 12 colors, a set
i'd
had since i was a young girl. of course, the paints would be replenished, but i never had to replace the container.
i've
never taken a water color course. i didn't care to then. i might now. it would depend on the instructor. i didn't give a hoot what those paintings looked like back then, about displaying them, about preserving them, about keeping them .. all i cared about was watching the colors interact, letting them run and drip and
i'd
just paint with an almost drunken giddiness. i would paint indoors in the
itty
bitty rented flat i shared with a boyfriend. at times boyfriend would paint too .. one time we even painted outdoors ..
it was that weekend when the backpacking through
europe
friend of a former girlfriend of boyfriend showed up needing a place to stay for a few days. (she was canadian come to think of it. i remember the maple leaf on her backpack.) we had a lot of fun that weekend.
we spent hours in the fields behind the german village where we lived just painting away .. i laid on my tummy .. i painted the grass .. the little friendly green grass snakes that writhed and wriggled and smiled at me .. i
layed
on my back and painted the brilliant blue pulsating hues of the sky .. the sun whose bright lights hurt my eyes, .... and i held on to the grass .. cause, you know ... i thought i just might float away ..
too much sun, ya know? hmmm ..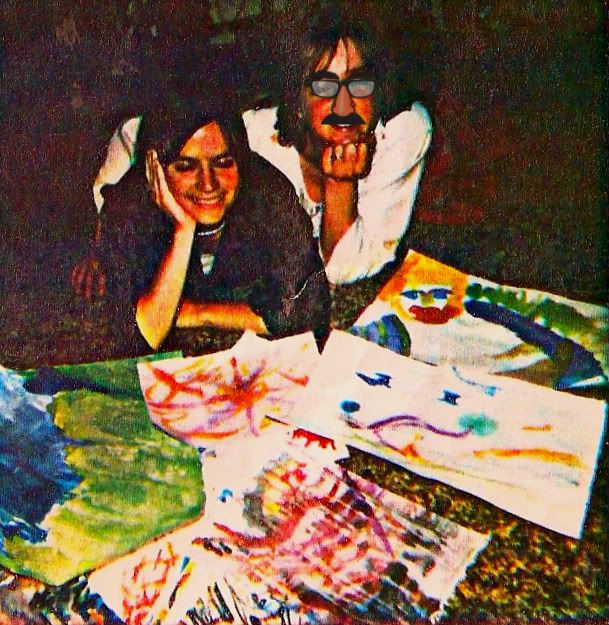 what can i say .. stress relieve .. i was in a job at the time where i and a group of other women found us in the unfortunate situation of having to fend off inappropriate behavior by a male. it was not pretty. he was the husband of my boss. she believed him. it went on for months. but, in the end we prevailed ..
what memories ..
i hadn't thought about all this in ages.
thanks a
friggin
' bunch,
sj
..
(now .. where did i put that stick of mine?)